---
URI: http://linked.data.gov.au/def/ausplots-cv/f890ebaa-e3c1-48dd-9197-12fd00ce8bdb
Also known as
C) Soil observations
Date created: 2020-07-31
Date modified: 2021-01-14
not supplied
Locate nine 30 cm deep soil cores or small pits across the plot, five within a 25 m x 25 m zone in the south west corner of the plot and the remaining four cores spread across the plot. Location of the five cores within the 25 m x 25 m zone should cover the entire range of vegetation types, cover classes and litter classes e.g. from bare ground to dense litter, through sparse cover of ephemerals or grasses or forbs, to dense cover of forbs, grasses, trees etc. If the core is positioned relative to a tree the distance from the tree stem/s should be recorded in the comments. Likewise the remaining 4 cores across the rest of the plot should also attempt to cover diversity present in vegetation and cover.
not supplied
c. Soil observations
Long-handled shovel
Spade
Trowel
Crowbar
Mattock
Zip-lock plastic bags (27 x 33cm)
GPS
Adhesive voucher labels (with barcodes)
Camera/ tripod/ SD card
Zip-lock plastic bags (27 x 33cm)
not supplied
All nine soil cores should be to a depth of 30 cm unless stopped by rock, calcrete pans etc, in which case the reason for not attaining the 30 cm depth should be recorded on the app or data sheet.
Collect a 500 g soil sample at each depth increment of 0-10 cm; 10-20 cm; and 20-30 cm.

Bag each sample in a large plastic bag labelled with the unique sample barcode and record a plot general description (e.g. bare soil, % cryptogam cover, adjacent perennial grass, under shrub, under tree etc.) and record GPS location on the field data collection app (or sheet).

Photograph the bags with the three soil samples and the 30 cm pit or the area around the auger hole to indicate the type of cover and vegetation sampled at that observation.

On return to the lab, dry all samples, either air-dried or oven-dried at 40°C until dry.

Place samples in an approved standardised airtight storage container (Cospak A572 1 L) clearly labelled with the AusPlots barcode and place an identical barcode inside the container (adhesive surface folded onto itself and placed in a small zip lock bag).

Collate samples and forwarded in batches to the CSIRO National Soil Archive. Inform the Archive before delivery with number of samples, dates etc. (see Chapter 11e).
not supplied
White, A, Sparrow, B., Leitch, E., Foulkes, J., Flitton, R., Lowe, A.J., Caddy-Retalic, S. (2012). AusPlots Rangelands Survey Protocols Manual. Version 1.2.9 page 50. Terrestrial Ecosystem Research Network and The University of Adelaide Press. https://doi.org/10.25901/5f2ca309cc9c2
---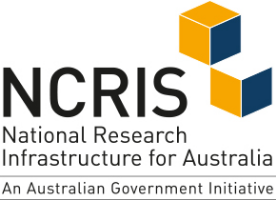 TERN is supported by the Australian Government through the National Collaborative Research Infrastructure Strategy, NCRIS.